Pitch Barrier with Advertising
---
Advertising hoardings are an excellent way of promoting a professional image as well as offering a continuous revenue stream. Barriers International offers a wide range of solutions depending on your situation. Standard hoarding sizes for attaching to our barriers are 2500 x 900 mm single width or 5100 x 900 mm double, and can be retro-fitted to most of our CrowdBarriers.
Barriers offer four main materials for printing advertisements: Di-bond, AluFoam, Foamex or PVC dependant on a number of factors such as location, prevailing weather conditions, and susceptibility to vandalism. For example, average UK wind speed is 20 mph which will exert a force of 1.60 kN/m² (approx 162 kgs). Add in a standard 'Safety Factor' of 1.4 and you will realise that the forces the hoarding must withstand are high. Experience has shown us that hoardings benefit from the backing of our strong wire mesh panels in some situations – this reinforcement helps to absorb the pressures created by the elements and allows for extra fixing points. Without these extra points the hoardings can deteriorate as the vibrations start to tear the material at the corner fixing points.
Why not contact us, and given the local conditions we will advise on the best solution for your facilities. As always, we offer a completely free no-obligation quotation service.
All PVC parts are manufactured using high grade, virgin, UV stabilised & impact modified materials. Barriers International offers a warranty on all PVC extrusions providing the systems are installed by Barriers approved contractors. All individual parts carry a two year warranty against manufacturing defects. For further information and detailed maintenance schedules please refer to our maintenance manual.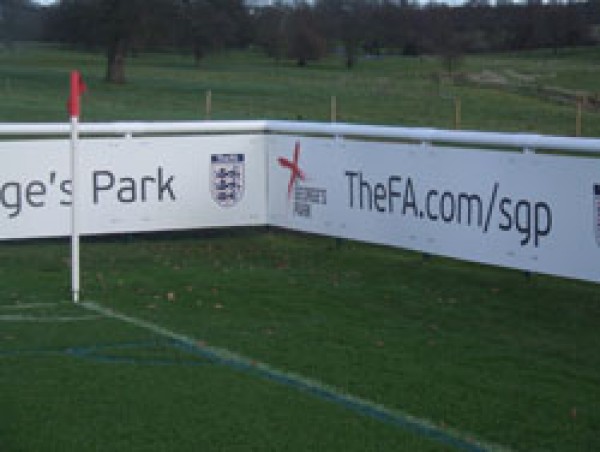 | Product Specification | |
| --- | --- |
| Colours | All white or green and white top rail |
| Post spacing | 2500 mm, 1750 mm or 1250 mm |
| Areas of use | Set around a sports pitch |