Slip Rails
---
This is the simplest form of course access, intended for quick and easy entry to the racecourse.
The slip rail is better installed within a straight line of fencing, but it will operate in a moderate curve.
The access is created by using a rail of smaller diameter so that it slides back inside the main rail.
In the closed position the slip rail is locked into place using the attached plastic locking pin. To open, simply remove the pin, grab the handle and pull the slip rail back inside the outer rail.
The sliding rail can be installed as a different colour to the race rail, so in the event of an accident the emergency services can easily identify the access point. We normally supply bright yellow.
All PVC parts are manufactured using high grade, virgin, UV stabilised & impact modified materials. Barriers International offers a warranty on all PVC extrusions providing the systems are installed by Barriers approved contractors. All individual parts carry a two year warranty against manufacturing defects. For further information and detailed maintenance schedules please refer to our maintenance manual.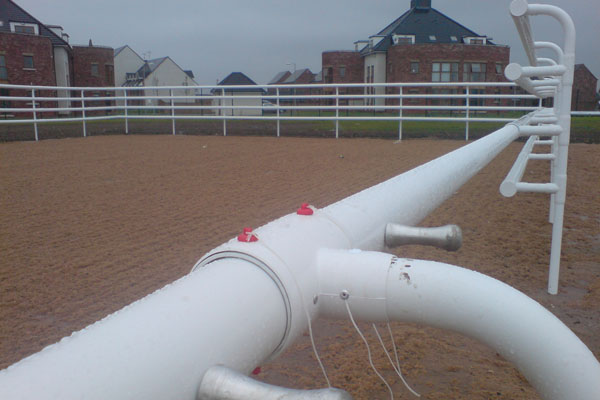 | Product Specification | |
| --- | --- |
| Colours | White or yellow |
| Post spacing | N/A |
| Areas of use | Pedestrian course crossings, starting stall access |