Premier Rail
---
This is our top of the range race rail, using swan-neck posts.
It will withstand the pressure of a racehorse, camel or a falling jockey. On impact, the system will guide and support the animal. The rail will flex, disperse the weight then return to its original position.
Expansion joints are incorporated at every rail intersection.
Joints are of a male/female design which allows the rails to easily expand and contract whilst remaining in line.
The expansion and contraction is retained within each rail length by inserting a locking rivet through the rail connector at a centre post.
Our design does not require metal strengthening components above ground making it a safer choice.
This system can be easily upgraded to incorporate our Award Winning and 3* PostFuse.
All PVC parts are manufactured using high grade, virgin, UV stabilised & impact modified materials. Barriers International offers a warranty on all PVC extrusions providing the systems are installed by Barriers approved contractors. All individual parts carry a two year warranty against manufacturing defects. For further information and detailed maintenance schedules please refer to our maintenance manual.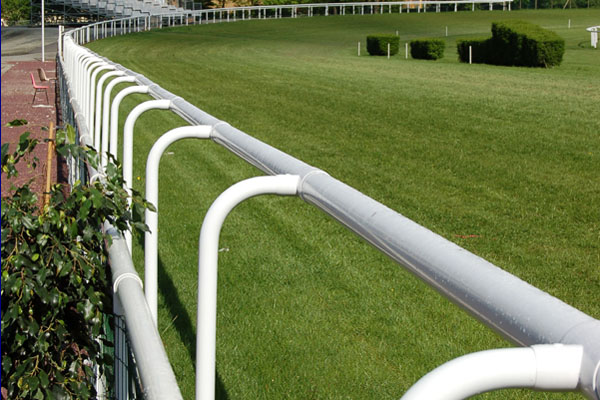 | Product Specification | |
| --- | --- |
| Colours | All white or green posts with white top rail |
| Post spacing | 2.50 or 3.25 m |
| Areas of use | Standard course running rail. Inside rail to parade ring |