Trotting Rail
---
The trotting rail is a racing fencing system designed to improve safety on dual purpose tracks. Adapted from our Premier Racerail, it is installed where more than one racing discipline takes place.
The lower rail exists to stop the wheel of the sulky catching behind a running rail support post. This could otherwise cause the cart to flip and catapult the charioteer onto the course.
This safety barrier was developed in conjunction with help and advice from La Société des Courses du Lion d'Angers, La Société du Cheval Français, and France Galop. Another design accomplishment for Barriers International.
This racing rail design does not require metal strengthening components above ground and can be readily and simply upgraded to incorporate our Award Winning and 3* PostFuse.
All PVC parts are manufactured using high grade, virgin, UV stabilised & impact modified materials. Barriers International offers a warranty on all PVC extrusions providing the systems are installed by Barriers approved contractors. All individual parts carry a two year warranty against manufacturing defects. For further information and detailed maintenance schedules please refer to our maintenance manual.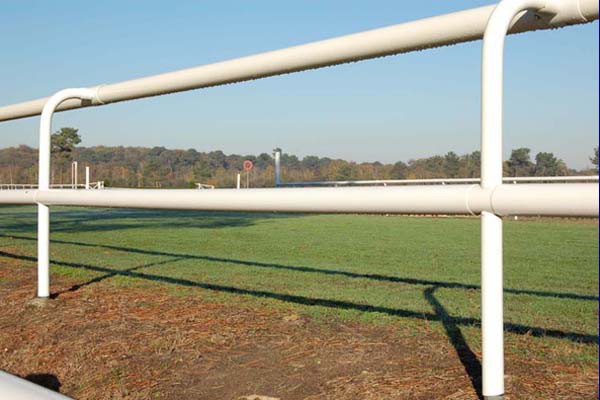 | Product Specification | |
| --- | --- |
| Post spacing | 3250 mm |